Richard Hopkinson Art Collections
Shop for artwork from Richard Hopkinson based on themed collections. Each image may be purchased as a canvas print, framed print, metal print, and more! Every purchase comes with a 30-day money-back guarantee.
Artwork by Richard Hopkinson
Each image may be purchased as a canvas print, framed print, metal print, and more! Every purchase comes with a 30-day money-back guarantee.
About Richard Hopkinson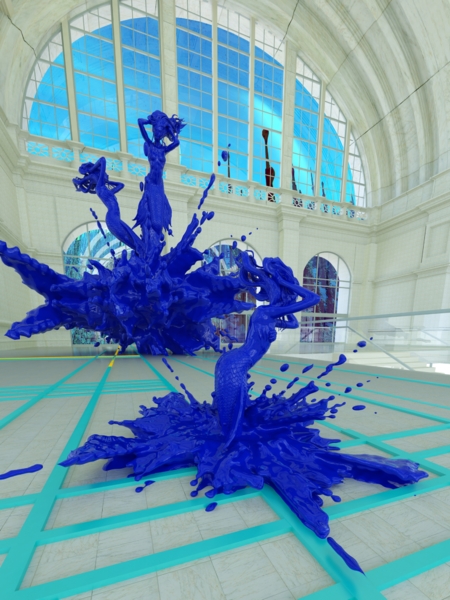 Educated to degree level in fine arts at Bristol Bower Ashton Art College in the United Kingdom. Initially I found work with the 'Garden Studio' in Covent Garden London providing hand painted book illustrations and covers for many famous authors including the late Scottish best seller Ian Banks. In addition I continued developing my art with individual hand painted works to private collectors. Running in parallel to this was an interest in interior design and over the years I have completed many high quality large scale hand painted mural works, on an international basis and in many cases for celebrity clients.
Interview with Renderosity, Michelle Willard.

Based in the United Kingdom, Richard Hopkinson has brought his talents and skills he acquired creating architectural renders and designing book covers to the world of Poser.
He first worked for the "Garden Studio" in Covent Garden London designing hand painted book illustrations and covers for many famous authors including the late Scottish bestseller Ian Banks while creating interior design renders and high-quality, large-scale, hand painted mural works.
In recent years, he has begun selling his art online at Pixels.com and Artmajeur.com. He has also incorporated Poser into his workflow to create images of space, fractals, landscapes and figures.
For our Poser Creator Series, Hopkinson answered a few questions about his artistic journey and how he creates with Poser.

How long have you been creating digital art and why did you start? When and why did you start using Poser?

Hopkinson:Â For the last 10 years I have been using Studio Max to create photorealistic interior visualizations for the architectural industries. Previously, I created hand-painted, sci-fi book covers for an agency in London.

What inspires your creations?

Hopkinson:Â When I ceased to work on the more technical work I returned to my first love which is the digital artwork on the gallery Pixels.com. Along with Pandromeda software it was a natural progression to add Poser figurative elements to the artwork.
I am a big fan of space and NASA and my name is on the data plate currently landed on Mars on Perseverance.

What is your favourite thing to design?

Hopkinson:Â Currently, my favourite stuff is space, fractals, landscapes and figures.

Tell me about creating book covers and architectural renders.

Hopkinson: My book covers were with an agency called The Garden Studio in Covent Garden, London, UK. This is now called Illustration x, which I believe is one of the world's foremost agencies, I was represented by Harry Lyon-Smith. Alas, I am no longer with them. At the time, I did first edition hard back covers for the late Iain Banks, a Scottish best-selling author, as well as many other covers from lesser writers. These were all created by hand using airbrush techniques and fine brush stokes. The originals were generally no bigger than A4 size.
On the architectural rendering side, I started in London with various architects and continued for many years in full time salaried positions. This allowed me to develop my passion for computer technology.
Using Studio Max for many years, I developed a credible skill base creating 3D model work, using lighting effects and rendering skills.
I guess it was a natural transition from airbrush work to computer rendering to create that glossy photorealistic style.
The current gallery work is created using a combination of Studio Max, some software called Pandromeda for fractal planetary creation, and of course most recently returning to my love of figurative work using Poser. Poser is most recent for me, so I am just beginning to get to grips with it. As an aside, I rarely use gimmicks like photoshop to doctor the images as I prefer the truism of the rendering process. I tend to feel Photoshop trickery defames the genre a little. I also use pure-form fractal 3D generation and, at the moment, I am starting a new series creating fractal abstracts in conjunction with Poser figurative elements. These will be the Occupied Abstract series.
The first one is already on www.richard-hopkinson.pixels.com.

Also, how do you create the art you sell on your website?

Hopkinson:Â In general terms, my artwork creation process is rooted in the original hand-painted process in that I work from the background forwards. The skies and distance stuff is created first, then more detailed mid-groundwork and finally the main focus foreground items. My influences stem from the classic surrealist artists such as Dali, Escher, through all the science fiction stuff to some modern figures and always a passion for 3D is the driver.

How did you naturally transition from airbrush work to computer rendering? They seem like two completely different skill sets.

Hopkinson:Â They are different skill sets, but the common driver is the creation of art images.
The skill sets do not create the art they are merely the tools in the hands of the artist. A common negative today is the tendency for technology to make it far too easy to place individuals in predefined boxes. An irritation I found with many architects who found some difficulty with the idea of a accomplished technical skill running in parallel with more creative artistry. The best example would be the American architect Frank Lloyd Wright who was arguably one of the world's greatest, but he also created furniture design, fabric designs and a thing called "Projective Ornamentation," which used mathematics to create geometric designs. Much of this is used today but it came originally from his genius.
Have a look on www.artmajeur.com/ian-hopkins to see some example of my hand painted stuff.

Wow. Your hand-painted stuff is amazing. I can also recognize Poser figures in some of the pieces. How does Poser fit into your creative workflow?

Hopkinson:Â Poser fills a demand in my current creative cycle as an artist to place human figures or humanity into my art. After all, humans relate best to other humans going back to ancient storytellers around the campfire. It's early days with Poser for me and I can get frustrated when I can't quite get the software to match my vision but that's my lack of better skills with it rather than the software itself. I would like to be able to ask people" how can I do this" or "get this to happen?" After all, it's all in the name of creating better art.